Maxwell Hyman
1903 – 1976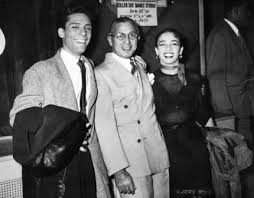 Maxwell Hyman (center) with Augie and Margo Rodriguez
(Photo by Harry Fine)
Maxwell (Max) Hyman, beloved owner of the Palladium ballroom, was well-known to be a generous supporter of mambo dancers and musicians. Maks Cyrulik (aka Zurulick) was born March 20, 1903 into a Jewish family, the sixth of seven children, in Stolptz (Stolbtzy), Belarus. In 1921, Maxwell immigrated with his youngest sister Faia to New York City. Two of his other sisters, Fania and Genia, were murdered by Nazis in Poland and Russia during the Holocaust, which led some Palladium dancers to associate his generosity of spirit with having escaped the genocide. After working for years in New York City's famed garment (including at the Nash Dress Company with brother Morris), Maxwell, an amateur mambo dancer, decided to buy the Palladium Ballroom circa 1948. Maxwell and his wife Helen modeled much of the format of the ballroom, including the weekly dance contests, after Roseland Ballroom. Their commitment to feature exclusively Afro-Latin music made the Palladium Ballroom a haven for development of Afro-Latin dance and music in New York City until it closed in 1966.
© Juliet McMains 2020
Sources: telephone interview with Jeffrey Smith, great nephew to Maxwell Hyman, July 30, 2020; interview with Michael Terrace, February 8, 2008.
| | |
| --- | --- |
| Header photos: Mambo Aces (Aníbal Vázquez and Mike Vázquez) and Jackie Danois | Website Design: Wren McMains, Additional Credits |
2840