Michael Terrace
December 31, 1926 –
Born Miguel Santiago Gutierrez de Lozano to a Dominican mother and a Cuban father in Spanish Harlem, Mike grew up dancing to Latin music at family parties. When he was a teenager, his friend Frank "Killer Joe" Piro taught him basic swing dancing. It was not until after he was released from the U.S. Marines in 1946, however, that Mike began to take dancing seriously. Despite his limited dance skills at the time, Mike's good looks earned him a job teaching ballroom dancing at Murray Dales where he learned the popular ballroom dances of the day. Mike worked diligently on his dancing and soon secured a job teaching dance at the prestigious Lido Hotel in Long Beach. In order to become more versed in the Latin dances, Mike frequented the Park Plaza in Spanish Harlem where he would offer to pay skilled female dancers to dance with him for an hour at a time. He also attended early dances at the Palladium Ballroom (then Alma Dance Studio) where he met and performed with Vera Garret, his first mambo partner, and his first wife Nilda, who became his first professional dance partner. Mike Terrace was also learned mambo by watching his friends, who were some of the pioneers of Palladium style mambo, including Larry Seldon and Joe Vega.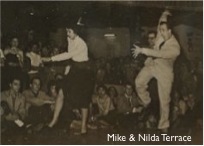 In the summer of 1949, Mike Terrace began working as a dance teacher at Grossinger's Hotel, the Catskill resort with the largest and most prestigious dance staff. Mike recalls that his life at Grossinger's was filled with temptations to service wealthy women in more than just dancing, much like that of the dance teachers portrayed in the film Dirty Dancing (whose creator Eleanor Bergstein relied on stories Mike told her in creating her fictional characters). One summer, the tap dancer Georgie Tapps, an idol of Mike Terrace, came to perform at Grossinger's. As Mike recalls the incident, Georgie Tapps lovingly pulled him aside and admonished, "You're shit. You don't know how to dance. You want to learn how to dance; you go to ballet school. You sign up and take advantage of the GI bill that's rightfully yours. You become a dancer. You want to be a dancer, give up the shit. All you're going to do is become a gigolo here, and then they're going to discard you when you're too old." The interaction altered the course of his life.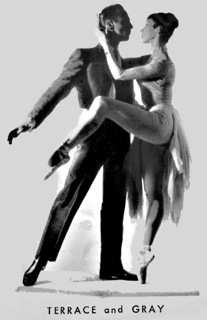 Mike Terrace quit working at Grossinger's, moved back to New York City, and began studying ballet through the GI Bill with the Vladimir Dokoudovsky at Ballet Arts. Through years of disciplined study, Mike acquired enough ballet skill to incorporate multiple pirouettes and double tours en l'air into his mambo dancing. Along with Augie and Margo Rodríguez, Mike Terrace was one of the pioneers in ballet-mambo, adapting ballet adagio lifts for mambo shows. Mike Terrace, performing with three successive partners, was one of the most successful dance acts to emerge out of the Palladium. With his first wife Nilda, Mike developed acts to mambo, samba, tango, and popular music. Their repertoire included a tango with a 16-foot bull whip and a number in which Nilda sang "I've Got the World on a String" while Mike danced. Another favorite act was "In a Little Spanish Town," choreographed by Peter Gennaro. Their dance acts often included more jazz and ballet steps than mambo, making them appealing to broader audiences than mambo purists. They performed throughout New York and beyond at venues including: the New York Palace Theatre, New York Radio City Music Hall, New York Winter Garden Theatre, Roseland Ballroom, Raleigh Hotel in the Catskills, Chez Paris in Chicago, and Bill Miller' Riviera in New Jersey. Mike and Nilda Terrace were featured dancers on the 1954 Mambo USA tour, on which Mike Terrace also worked as emcee (replacing Pupi Campo who could not remember the names of the performers). Mike and Nilda dissolved their marriage and partnership at the end of the tour.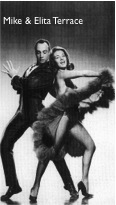 After splitting with Nilda, Mike began performing with Barbara Anne Gray, a former soloist with the Joffrey Ballet. Together they worked as the opening act for many well-know singers, including: Sammy Davis Jr., Johnny Mathis, Hoagie Carmichael, Johnny Ray, and Bobby Darien. They played extended runs at the Eden Rock in Miami Beach and at the Condado Beach Hotel and Hilton Conquistador in San Juan, Puerto Rico.
In 1960, Mike met his second wife, Elita (Cleveland) Terrace. While he was training Elita (who had no prior dance experience) to become his dance partner, Mike Terrace continued to dance with various partners in Catskills mambo shows, including Kuki Martínez. Soon he began performing with Elita at Kutcher's Country Club in the Catskills. Mike and Elita were then booked to open for many singers and comedians, including: Don Rickles, Jackie Mason, Tony Martin, Carol Channing, and Harry Belfonte. Mike and Elita have three children and still enjoy social mambo dancing from their home in Florida.
© Juliet McMains 2012

Sources:
This information was relayed to me during a personal interview with Michael Terrace at his home in Fort Lee, NJ on February 1, 2008 and subsequent email communication.
Additional Resources:
"El Palladium: History of A Most Prominent Dance Hall" By Michael Terrace and Peter Settimelli
"The Palladium has a Thousand Stories, Part II" by Michael Terrace and Peter Settimelli
| | |
| --- | --- |
| Header photos: Mambo Aces (Aníbal Vázquez and Mike Vázquez) and Jackie Danois | Website Design: Wren McMains, Additional Credits |
9126